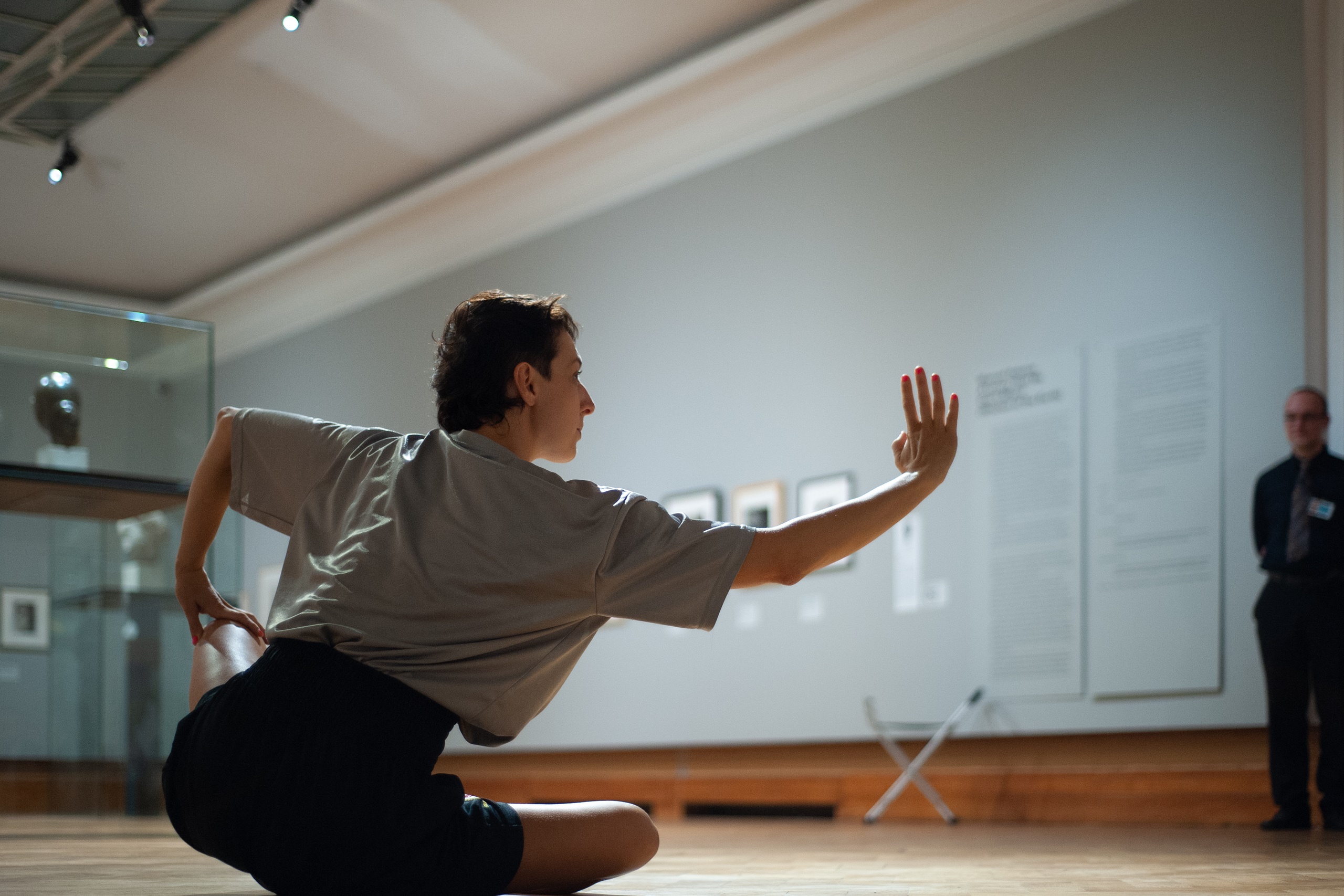 Manuel Pelmuș
---
---
Manuel Pelmuş (b. 1974, Bucharest, Romania) is a Romanian artist with a background in choreography working across different contexts such as exhibition, theater and the public space. He often deploys continuous live presence, ongoing actions, within the context of exhibitions, using enactment as a performative strategy, the human body as a medium and the context of specific places and institutions, in order to challenge existing hierarchies and explore the body's relationship to collective memory and the construction of history. In 2013, he represented Romania at the 55th Venice Biennale with a collaborative project together with Alexandra Pirici. He has shown in museums and biennials worldwide, notably, the Kyiv Biennale, Tate Modern, the Van Abbemuseum, Para Site Hong Kong, OFF-Biennale Budapest, Centre Pompidou – Paris, Ludwig Museum Cologne, HAU Berlin, SALT Istanbul, BOZAR Brussels, Gothenburg Biennale, etc. In 2012, Pelmuş was awarded the Berlin Art Prize for performing arts and later recognized with the prize for excellence from the National Dance Center of Bucharest in 2014. Together with a group of fellow artists, he participated in establishing the first institution dedicated to contemporary dance in Romania, the National Dance Center Bucharest (CNDB). His ongoing actions are part of private and public collections as live actions. Manuel Pelmuş is currently a research fellow at the Fine Art Academy in Oslo (KHIO). He lives and works in Oslo and Bucharest.
Manuel Pelmuş's choreographic practice investigates and reimagines the role of performance in a visual arts context, the relation between the gesture of the performer (a bodily mimesis of an existing reality, or its refusal or divergence) and the affective bonds on which the genre relies, in relation to the conventions or strictures of art exhibitions or museum environments, where collections are guarded and displayed. His questioning of the plasticity of the gesture and of performative response probes the notion of a collection of such bodily and critical events, and the performance he imagines for this exhibition is part of his current long-term project Permanent Collection. A soundtrack, mixing acoustic effects and a monologue by the artist, commenting on notions of distance and dislocation, presence, and communality, is broadcast into the space of Kasia Redzisz's exhibition for the biennial, and taken by a performer as a series of instructions or prompts to interact with the space and the works, to write gesturally new scenarios for the modes of attention, togetherness, or alienation that the Biennial explores.
---
Manuel Pelmuș, A Luxury We Can Not Afford, 2019. In the picture, Maria F Scaroni. Photo credit: Beniamin Boar.