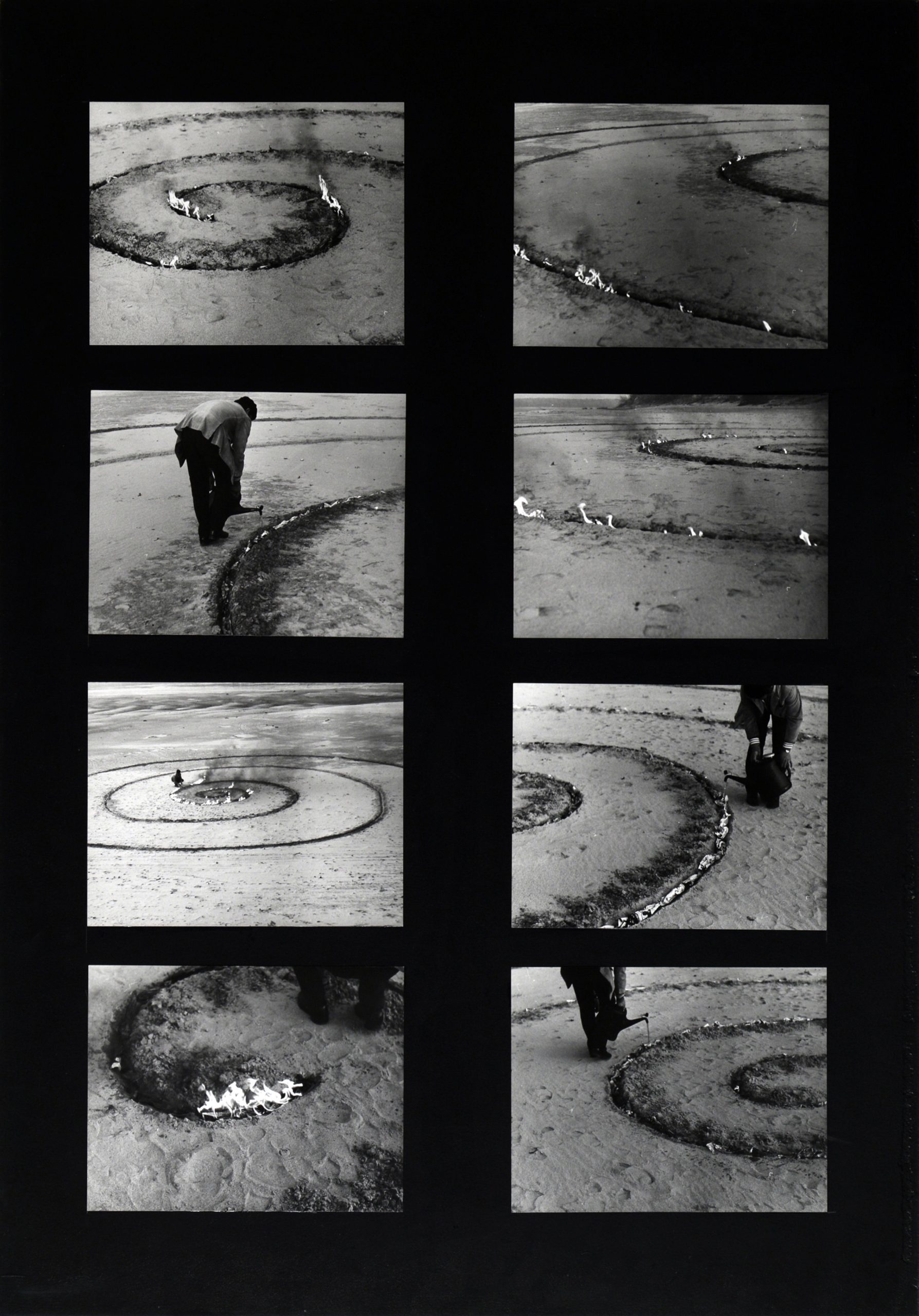 Pécs Workshop
---
---
Károly Hopp-Halász's (b. 1946, Paks – d. 2016, Paks) oeuvre is multi-faceted both thematically and in terms of media, merging painting with graphic art and sculpture as well as installation, action art, performance, body art, video and film. It was in the collective atmosphere of the Pécs Workshop (1968-1980) that he found his singular voice, delicately reflecting on political or identity issues. His iconic series voiced the depressive reality of surveillance and censorship, or brought up the social anxiety and claustrophobia of an artist whose homosexuality marginalized him, unable to articulate his true self. While the isolating peripheral life, the frustrating distance from the art capitals remained key issues in Károly Hopp-Halász's oeuvre, he corresponded with important figures of the international art scene such as Robert Smithson, to the memory of which he was the only Hungarian artist to react. His oeuvre remains one of the most consistent yet complex ones of post-war Hungarian art.
Károly Kismányoky (b. 1943, Pécs – d. 2018, Pécs) was a founding member of the Pécs Workshop (1968-1980). His experimenting and questioning nature led him to deny the fixed, finalized form of artwork and to focus on the process rather than the result – on the living activity rather than on the lifeless product – by performing outdoors, in the surrounding natural and urban environment of Pécs, together with Kálmán Szijártó (1946-). His placement of basic geometric signs onto trees trunks, on the ground of sand quarries and gravel pits as soon as 1970 were in fact the first manifestations of Hungarian land art. In the conceptual period of the Pécs Workshop unfolding from 1973, Kismányoky engaged mostly with photography, outdoor action and performance, investigating the visual potentials of replacement, concealment, masking, burning and sinking. These notions consistently outlined his interest for transformation, and reinforced the serial character in the execution of his pieces.
Kálmán Szijártó (b. 1946, Szigetvár) was a founding member of the Pécs Workshop (1968-1980). He turned to new media as early as 1970, performing outdoor interventions together with Károly Kismányoky (1943-2018) and documenting their impressions and results. By examining how simple linear elements placed into a natural context would interact or interfere with the scene, Szijártó developed an interest in engaging more with process-based, performative forms and expressions involving his body. Driven by the idea of interrelatedness, Szijártó included the audience in his later performances as well. This echoed the concept developed in his early drawings and outdoor interventions: the reciprocal, permeable sensitization of different surfaces, of reality and its reflection; of the performer and the performed context – should it be natural or human.
Sándor Pinczehelyi (b. 1946, Szigetvár) is one of the most prominent figures of the Hungarian neo-avant-garde generation, and one of the founders of the Pécs Workshop (1968-1980). The most distinctive motifs in his works are the hammer and sickle, the cobblestone and the five-pointed star, too well-known symbols of the Communist era and its proletariat. Appropriating, using and reinterpreting them in connection to his own body and everyday objects in order to build an individual mythology determined by the historical and cultural reality of Central and Eastern Europe, Pinczehelyi developed a body of works with strongly ironic, political overtones definable as political pop art. In parallel with his visual practice in which the figure of the artist stands as a historical, social and authentic individual, he got involved with underground agenda of artistic organization and initiated contact with the contemporary art scene of Former Yugoslavia and Poland.
---
Károly Hopp-Halász, For Robert Smithson, 1973, gelatin silver print mounted on fibreboard, 100 x 70 cm each. Courtesy of acb Gallery, Budapest.