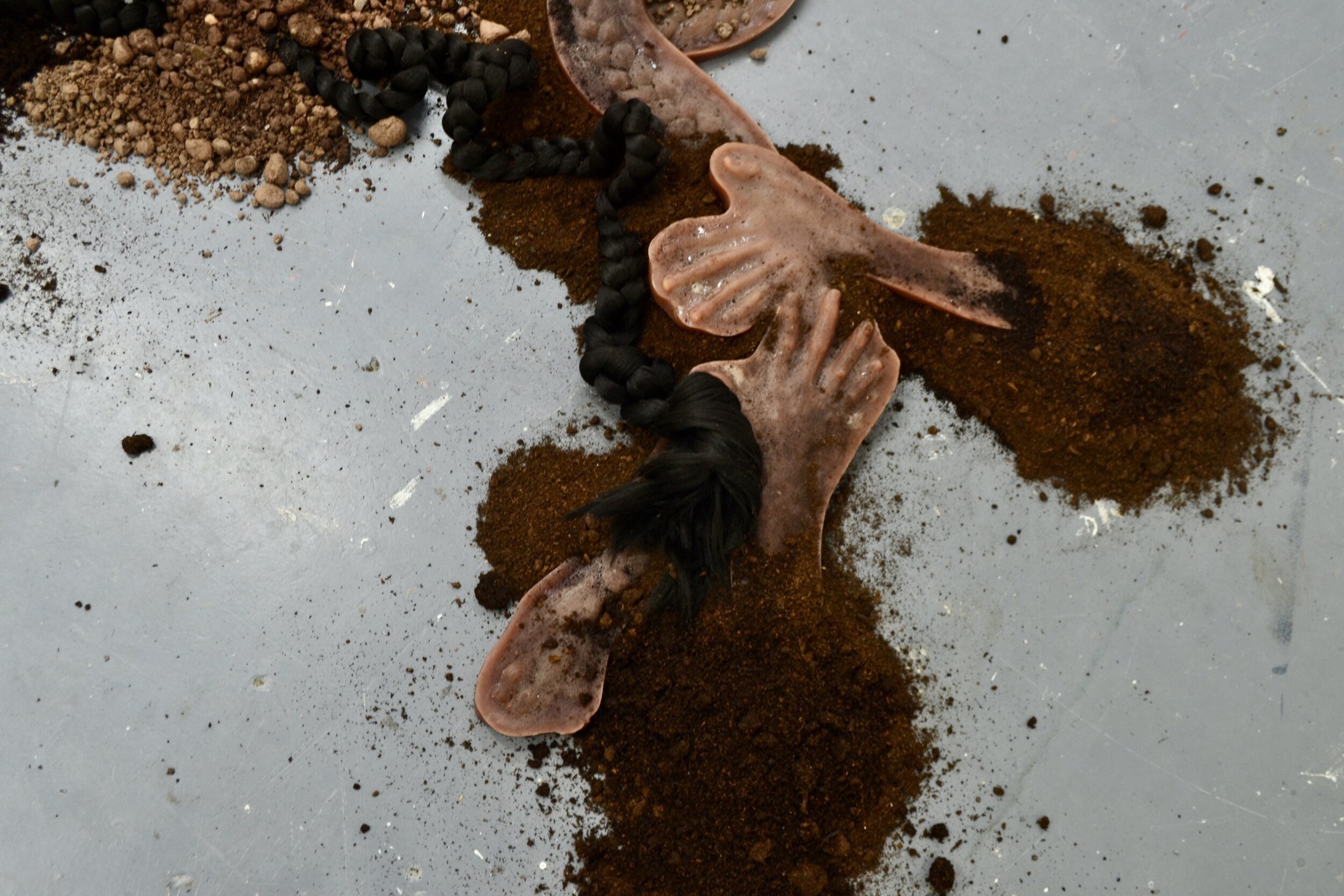 Davinia-Ann Robinson
---
---
Davinia-Ann Robinson's (b. 1987, Wolverhampton, UK) practice examines how 'Presencing', fugitivity and tactility undo colonial and imperial frameworks through which nature and Bodies of Colour are articulated, by exploring the relationship between Black, Brown and Indigenous soil conservation practices and what she terms as 'Colonial Nature environments'. Her work addresses personal interactions with 'colonial emotions' she has encountered, in local, national and global environments as a Black Female Body, building on her intense relationship with soil as a living material explored through sculpture, sound, writing and performance.
Davinia-Ann is currently studying in her final year at the Slade School of Fine Art on the MFA Sculpture programme, She has been included in solo and group exhibitions and delivered public programmes within arts intuitions, recent include: I Am Unsure As To If It Is Still Alive – Quench, Margate (2021), Tactile Belonging – Mimosa House, London (2021), Bold Tendencies, London (2020), Freedom Is Outside the Skin – Kunsthal 44Møen, Denmark (2020), Working Progress – South London Gallery, February and August (2020), PRESENCE – Deptford X, London (2019), The Politics of Pleasure, Genealogies Series, PLASTICISED SENSATION – ICA, London (2019).
Davinia-Ann is a recipient of the Felix Slade Scholarship 2019-2021 and a recipient of the 2021 SET Studio Prize. She is also founding member of Narration Group an art collective for Women and Non-binary People of Colour.
---
Davinia-Ann Robinson, Earth, Body, 2020. Courtesy of the artist