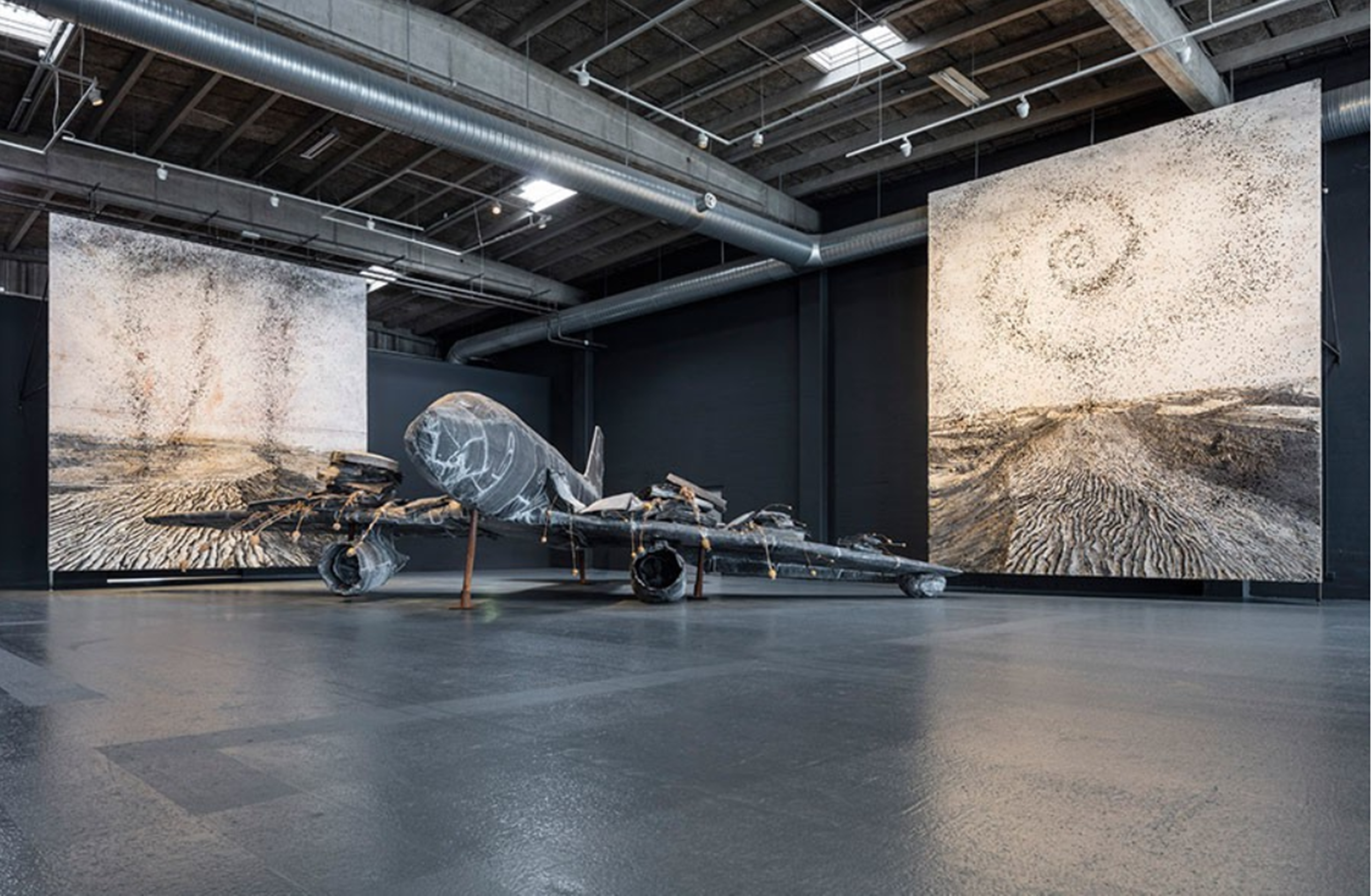 Anselm Kiefer
---
---
Anselm Kiefer's (b. 1945, Donaueschingen, Germany) monumental body of work represents a microcosm of collective memory, visually encapsulating a broad range of cultural, literary, and philosophical allusions—from the Old and New Testaments, Kabbalah mysticism, Norse mythology and Wagner's Ring Cycle to the poetry of Ingeborg Bachmann and Paul Celan.
Born during the closing months of World War II, Kiefer reflects upon Germany's post-war identity and history, grappling with the national mythology of the Third Reich. Fusing art and literature, painting and sculpture, Kiefer engages the complex events of history and the ancestral epics of life, death, and the cosmos. His boundless repertoire of imagery is paralleled only by the breadth of media palpable in his work.
Kiefer's oeuvre encompasses paintings, vitrines, installations, artist books, and an array of works on paper such as drawings, watercolors, collages, and altered photographs. The physical elements of his practice—from lead, concrete, and glass to textiles, tree roots, and burned books—are as symbolically resonant as they are vast-ranging. By integrating, expanding, and regenerating imagery and techniques, he brings to light the importance of the sacred and spiritual, myth and memory.
Kiefer's work has been shown and collected by major museums worldwide, including the following: "Bilder und Bücher," Kunsthalle Bern, Switzerland (1978); "Verbrennen, verholzen, versenken, versanden," West German Pavilion, 39th Biennale di Venezia, Italy (1980); "Margarete—Sulamith," Museum Folkwang, Germany (1981); Kunsthalle Düsseldorf, Germany (1984, traveled to ARC Musée d'Art Moderne de la Ville de Paris, France; and Israel Museum, Jerusalem); "Peintures 1983–1984," Musée d'Art Contemporain, Bordeaux (1984); and Art Institute of Chicago, Illinois (1987, traveled to Philadelphia Museum of Art, Pennsylvania; Museum of Contemporary Art, Los Angeles; and Museum of Modern Art, New York, through 1989).
Further museum exhibitions include "Bücher 1969–1990," Kunsthalle Tübingen, Germany (1990, traveled to Kunstverein München, Germany; and Kunsthaus Zürich, Switzerland, through 1991); Neue Nationalgalerie Berlin, Germany (1991); "Melancholia," Sezon Museum of Art, Tokyo (1993, traveled to Kyoto National Museum of Art, Japan; and Hiroshima Museum of Contemporary Art, Japan); "Himmel-Erde," Museo Correr, Venice (1997); and "El viento, el tiempo, el silencio," Museo Nacional Centro de Arte Reina Sofía, Madrid (1998).
In recent years, Anselm Kiefer's solo exhibitions have included Guggenheim Museum Bilbao, Spain (2000); "Maleri 1998–2000," Louisiana Museum of Modern Art, Humlebkæk, Denmark (2001); "Die sieben Himmelspaläste," Fondation Beyeler, Basel (2001); "I sette palazzi celesti," Fondazione Pirelli, Milan (2004); "Heaven and Earth," Modern Art Museum of Fort Worth, Texas (2005, traveled to Musée d'Art Contemporain de Montréal, Québec; Hirshhorn Museum and Sculpture Garden, Washington D.C.; and San Francisco Museum of Modern Art, California, through 2007); Guggenheim Museum Bilbao, Spain (2007); "Sternenfall / Chute d'étoiles," Monumenta, Grand Palais, Paris (2007); "Anselm Kiefer au Louvre," Musée du Louvre, Paris (2007); Louisiana Museum of Modern Art, Humlebkæk, Denmark (2010); "Shevirat Hakelim," Tel Aviv Museum of Art, Israel (2011); "Beyond Landscape," Albright-Knox Art Gallery, Buffalo (2013); Royal Academy of Arts, London (2014); "l'alchimie du livre," Bibliothèque Nationale de France, Paris (2015); Centre Georges Pompidou, Paris (2015); "Kiefer Rodin," Musée Rodin, Paris (2017, traveled to the Barnes Foundation, Philadelphia, through 2018); "For Velimir Khlebnikov — Fates of Nations," State Hermitage Museum, St. Petersburg (2017); and "Provocations," The Met Breuer, New York (2017).
---
Anselm Kiefer, Untitled (by Oscar Wilde), 1998, Oil, paint, shellac and pencil on photograph, 58 x 91 cm. Courtesy the artist and Aeneas Bastian Collection, Germany